Blog Feed

This blog post is brought to you by Upwell interns (@UpwellInterns) Kaori Ogawa, Liana Wong, and Paulina Dao. Kaori is a recent graduate from Brown University with a degree in Development Studies. Liana will be starting her third year at New York University studying Economics and Psychology. The marine biology specialist of the group is Paulina, who is also a recent graduate from the University of California, Santa Cruz.
Tackling the Chimp
This week, the interns grabbed the reins and analyzed all three Tide Reports for the week (check out the wrap post for more details). Luckily, we had practice last week with Ray. MailChimp may be confusing to use at first, but it is a pretty cool tracking tool. Kaori took a first pass at the metrics for the first two Tide Reports earlier in the week, and then returned to them on Friday and found more engagment — does this mean more people go back to their inboxes to read our newsletters? Only a few. Does this give us hope that maybe we are growing in readership and clickership? Yes!
One man we like to call our "super fan" is Chris Thompson. He likes clicking our links, shares whale photos with us on Twitter, and spent his very first Tweet writing to us, @UpwellInterns. :')
The Art of the Pitch
This week was "pitch week" for Paulina and Liana! In order to visualize the impact of ocean acidification on coral reefs, Kaori combined images from Jamaica, the Inshore Great Barrier Reef (Australia), and the Florida Keys to show the degradation of coral reefs over time. The original images came from Terry Hughes' opening slides at the International Coral Reef Symposium of 2012. Paulina pitched this image to ocean design blogs, hoping to reach out to those unlikely to write about ocean acidification. One blog, Enpundit, will be writing about ocean acidification on Monday, July 16th. This image was also shared quite a bit on Facebook and Twitter, making for some happy interns.
Continuing on the quest to amplify the ocean acidification conversation, Liana contacted some Twitter users who had tweeted about the Media Matters article about comparative media coverage of the Kardashians and Ocean Acidification. We shared our blog post that added the online layer to the comparison with them in hopes that some people were interested in some follow-up analysis of the online conversation of the Kardashians versus ocean acidification. Liana tweeted five users and emailed three people about the study.
Through writing these pitches, we learned that it's incredibly hard to reach out to people and actually have them reply back. We also learned from Ray to approach pitching from a friendly and informative viewpoint. It is difficult to determine the exact number of people of people that the blog post reached or how many people on Twitter actually clicked on it. One of the things we as interns have to work on is prioritizing who to contact.
#Fishybands
This week, we also got to stretch our creative muscles and put our graphic design skills to the test. First off: #fishybands, inspired by Matt's Barry Minnolow. We jumped on the #fishyband wagon and created "punny" image macros, chugging out: Carly Ray Jepsen, Kelly Sharksfin, Eel Diamond, Green Ray, and Cyndi Lobster. The hash tag #fishybands doesn't seem to be trending (yet). The musicians who were tweeted at unfortunately did not respond. But we probably won't stop making these image macros as long as ocean puns are still around.
More Highlights from the Week
One of the highlights of our week was the "Secret Shark Project." We got to listen and watch some really great things, laugh with our coworkers, and realized that working at Upwell is a dream. More to come when we debut this hilarious project on Monday.
Britt suggested we create a "Summer Eating, Summer Reading" board on Pinterest. Included are about twenty-five books such as sustainable cookbooks, beach reads, and cute ocean-themed books for kids.
On Thursday, the interns also listened in on Beth Kanter's webinar entitled "How Content Curation Builds Staff Expertise and Reduces Information Overload." For a nonprofit organization to work with all this information on the internet, we need to learn how to filter through the "crap" and focus more on what can be curated for a longer shelf life. Benefits of curation include building reputation and relationships, spreading good content, and helping the organization remain relevant. One social media platform that we may want to consider is Scoop.it -- there are many professional content creators and curators who sift through information and deem which are the best. The planet's best curator Robin Good created a list of the best social media platforms to collect and present content - great reference page!
We also just love our whales, so when we read Wendell McKine's tweet that he could double double any whale, we had to defend them. Pulling up hard facts and statistics, we put together this graphic, proving that whales would be more than able to hold their own against the previous New Mexico State Aggies forward.
Last but not least, we put together this image on the mistaken shark identity incident off the coast of Cape Cod.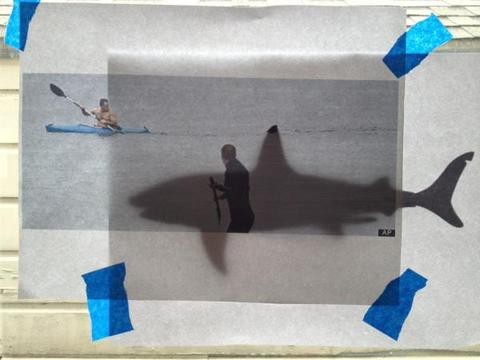 Overall, this first week was a busy week, full of analytics, Photoshop, tweets, and Mailchimp. Fortunately, our Upwell leaders are super supportive, feeding our brains with online communication strategies, and our stomachs with fresh, delicious meals.
Pages