Upwell's Pilot Report (aka 165 pages of awesomeness)

In our first year, our experimental pilot project, Upwell, charted new territory to engage a larger and more diverse audience in the ocean conversation and to elevate the ocean while not elevating any particular organization or perspective. We have done this by quantifying the level of the ocean conversation across a range of topics and measuring the impact of engagement on the issue, a first for the strategic ocean communications initiatives. 
During our first year of incubation, Upwell successfully pioneered the development of new methodologies in social monitoring, demonstrated success in elevating the ocean conversation above the baseline, earned praise for a non-branded approach to campaigning from social media thought leaders and attracted additional philanthropic interest in expanding the project beyond the intent of the pilot phase across a range of environmental issues. We are grateful for the Waitt Foundation's significant initial investment, which provided the vision and commitment to launch this entrepreneurial initiative and are appreciative of other funding we have received for the project.
Over the past month, we've been sharing many of the insights from our pilot year of working to make the ocean famous on the internet. Many of the recent posts here have covered elements of the report including defining social mentions, conversation metrics for Overfishing and Sustainable Seafood, our distributed network campaigning method, the Upwell campaign lifecycle (an awesome idea, requested by Ayana Johnson), our spike quantification of the ocean conversation, and Upwell's ocean conversation Baseline methodology.
We've also shared our findings on other blogs like Lean Impact and Beth Kanter's blog, all derived from a massive report we wrote in January and February. We're talking massive! This sucker is 165 pages. We hope the community of ocean communicators and social changemakers find value in our research and findings. We'd love to share it more widely. Email us with your guest post offers and Today Show opportunities at tips@upwell.us. We'd love your feedback!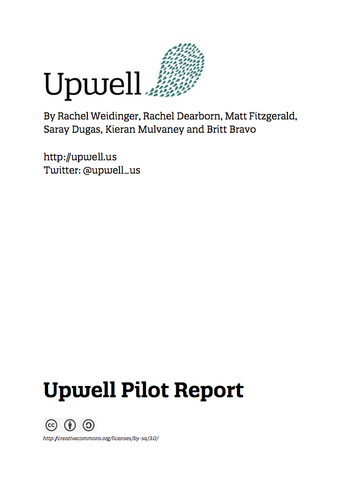 Read the Upwell Pilot Report, by Rachel Weidinger, Rachel Dearborn, Matt Fitzgerald, Saray Dugas, Kieran Mulvaney and Britt Bravo.
Download the Executive Summary here.