A quick analysis of the CITES conversation

I did some minimum viable keyword set building this morning to take a peek at how the CITES conversation went online, and to understand what portion of that conversation related to sharks.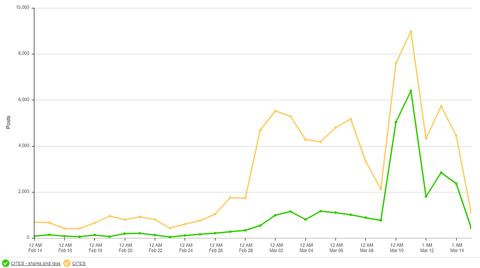 Social mentions (including news media, message boards, and social media) of the CITES meeting (yellow line) and a subset of that conversation relating to sharks and rays (green line), February 14 - March 15, 2013. 
The CITES conversation peaked on March 11 with nearly 9,000 social mentions for that day (the shark portion peaked at 6,403 on the same day). I took a peek into what was driving the conversation that day.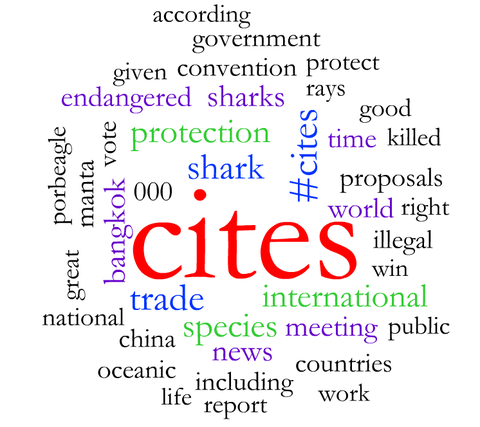 Word cloud for the overall CITES conversation on March 11, the biggest spike during the 1-month period.
Despite the array of other proposals considered at the meeting (polar bears, ivory trade, and more), sharks and rays seem to have driven the conversation on this peak day, likely due to live updates from the convention.
Looking at Topsy Pro analytics for the same day, these were the most shared tweets:
(linking to Cites4Sharks)

(linking to The Guardian - Five shark species win protection against finning trade)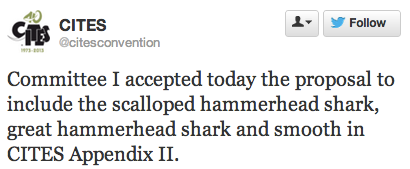 When I peeked into our sharks profile (which monitors the conversation about sharks broadly), it was interesting to see that the conversation did not spike on the same day. This goes to show that despite the massive attention CITES received, it still pares in comparison to the overall conversation about sharks.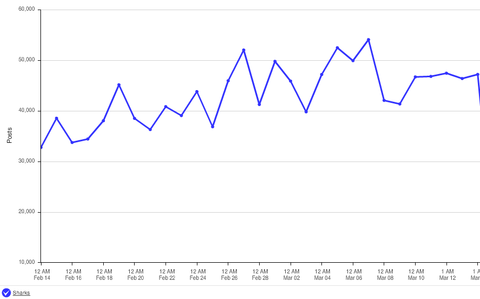 Social mentions for Upwell's Sharks keyword group, February 14 - March 14, 2013.
Have ideas on how to spike the overall shark conversation next time? Leave us a comment.