Add new comment

On Sunday, September 21st I marched with hundreds of thousands of people through the streets of New York as part of the People's Climate March.
Why was I there? Among many other reasons, I was there to march for the ocean.
The turnout was absolutely incredible. As the good folks at Mother Jones put it,
the next time someone tells you that no one gives a sh*t about climate change, show them this picture.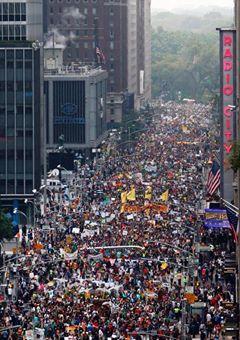 The People's Climate March. Photo by Michael Pollard.
Well I'm here to tell you that the next time someone tells you that your voice doesn't matter on the internet, show them this graph.
What you see there is nearly five years of monthly Twitter data, beginning January 1, 2009 and running through September 30th of this year. The blue line is tweets containing common climate change or global warming terms. The green line is tweets about the People's Climate March.
The huge spike on the right side of the graph tells a simple tale.
The march lifted climate change conversation to its highest level on Twitter, ever.
In September 2014 alone, there were more than half a million tweets about the People's Climate March, and over 6.9 million about climate change or global warming. The climate march posts alone earned a combined 2.8 billion (with a B) potential impressions. While impressions are widely known to be a so-called "vanity metric," in this case I'm just going to sit back and reflect on the size of that number. 
Together, we are enormous.
Putting 400,000 people on the streets of New York was impressive enough, but so too is the people's media network that has amplified and energized this movement. Who is that network? It's people like you and me. Together we represent a D.I.Y. media revolution in the form of tweets and posts and status updates that has consistently led - not been led by - the mainstream media. This people's media movement has - through witness, reporting, storytelling and meme-making - increasingly lifted up the voices of frontline and indigenous communities here in the U.S. and around the world, while in the process changing the online conversation about climate change.
When legacy media ignored the climate movement, the climate movement made its own media.
Now that's a legacy to build on.
Onwards!