Amplify Shark-saving Campaigns During Shark Week

Shark Week comes but once a year, but when it does, savvy ocean communicators seize the moment to ride the biggest online shark wave of the year. Here's a sample of how you can support and amplify shark conservationists and shark conservation campaigns this Shark Week. 
Know a campaign that should appear here? Send the info to our tips account and bask(ing shark) in your contributory glory!
Imagine Shark Week Without Great Whites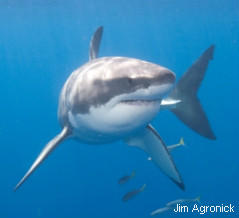 Great whites are to Shark Week what Usain Bolt is to the Olympics, what Val Kilmer is to 'Tombstone', what George Clooney is to ER reruns…. They are the charismatic big stars who at any moment can produce that moment of excitement. So try and imagine Shark Week without them.
As Oceana points out, "there might only be a few hundred adult great white sharks left off the Pacific coast of North America, and constant threats like fishing nets continue to kill baby white sharks in their nursery habitats." That's why Oceana is working with Discovery Channel gathering petitions in support of its campaign for great white sharks to be listed under the Endangered Species Act.
Amplify This:  Tweet this call for action to your supporters as a way to add more signatures to the petition.
Amplify This: Join the Shark Week Thunderclap and donate a facebook or twitter post for shark conservation. Add your voice at Thunderclap.it/SharkWeek.
Shark Fight: Shark Attack Survivors Fight for Conservation

Outside of events like Shark Week, it seems that sharks make the news a lot of the time only when one of them takes a bite out of a human diver or swimmer. For the humans involved, such attacks can be traumatic and debilitating, if not fatal. In the face of this challenge, however, an impressive and dedicated group of survivors is working with Pew Environment Group to press world leaders to act for shark conservation. So far, the survivors have been instrumental in persuading the U.S. Congress to close loopholes in the nation's shark finning ban—a law signed by President Obama in 2011. They have supported leaders, including the presidents of Palau and Honduras, who declared their waters shark sanctuaries. And they have visited the United Nations to urge countries to develop shark sanctuaries, conservation plans, and similar measures.
Now their stories are being featured in the Shark Week series 'Shark Fight', and the survivors will be live tweeting during episodes.
Amplify This: Share the above video on your Facebook page with a message like, "If shark attack survivors can support shark conservation, we all can. Visit bit.ly/sharkfight for more information."
Amplify This: Follow the live conversations during 'Shark Fights' by using the hashtag #sharkfight and urge others to do the same with this tweet.
Help the Hammerhead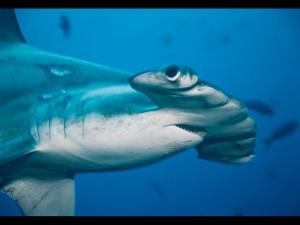 Of nine species of hammerhead sharks, two are listed as endangered, and one as vulnerable, on the IUCN Red List, recognition of the damage inflicted on hammerhead populations as a result of shark finning. But at the last meeting of the Convention on International Trade in Endangered Species (CITES), proposals to list hammerheads on CITES Appendix II were shot down by nations with an interest in the shark trade.
Shark Stewards is petitioning the US Fish & Wildlife Service to support listing hammerheads at the next CITES meeting in Bangkok in 2013.
Amplify This:  Tweet the petition to your supporters.
How To (Not) Eat Sharks
Seafood Watch has a guide to which sharks are OK to eat and which aren't. (General tip: In most circumstances, simply pass on any shark-meat-or-fin-eating opportunities.)
Amplify This:  The Seafood Watch guide is clear and perfect for sharing. Why not post to your Facebook page? Link: bit.ly/seafoodwatchsharks
Think it's unlikely that you might somehow ingest threatened or endangered shark species? Think again.
Obviously, if you avoid shark meat and fins altogether, you're safe, but even shark products that may purport to be safe in fact may be made at-risk species. A  study conducted in collaboration with the Pew Environment Group found that 32 samples of shark fin soup from 14 U.S. cities included species such as the endangered scalloped hammerhead, as well as smooth hammerheads, school sharks and spiny dogfish, which are listed as vulnerable.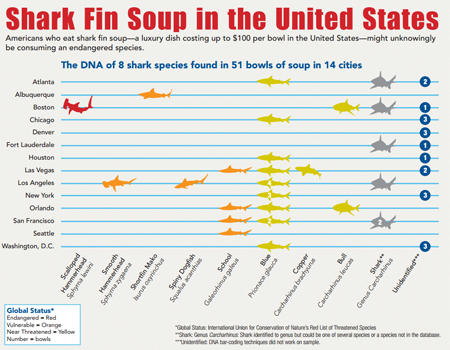 Credit: Pew Environment Group
Amplify This: Tweet a New York Times blog post on the findings to your supporters.
Amplify This: Post the image above to your Facebook page with the message "Americans who eat shark fin soup might unknowingly be consuming an endangered species http://bit.ly/S5jBb6"